October is Fire Prevention and Fire Safety Month
I
received a sample from Playmobil to facilitate this post.
Now that my boys are old enough to stay home by themselves for a couple of hours it is a good time to teach them about fire prevention and fire safety. My boys have learned some things like don't use a lighter or matches unless a grownup is nearby and how to escape if there is a fire. These are important things to know but I think my boys and I could use a refresher on fire safety. One does not expect their house to be on fire or even a small fire in the kitchen but one needs to be prepared.
October is Fire Prevention and Fire Safety Month
Since the whole month of October is Fire Prevention and Fire Safety Month, I decided that this would be a good time to help my boys be prepared for an emergency like a fire. That way I can rest a bit easier when I leave them home by themselves. Since this is a time when public service departments across America join forces to spread the word about fire safety, then I will make it a time for my family to learn about preventing fires and what to do in an emergency.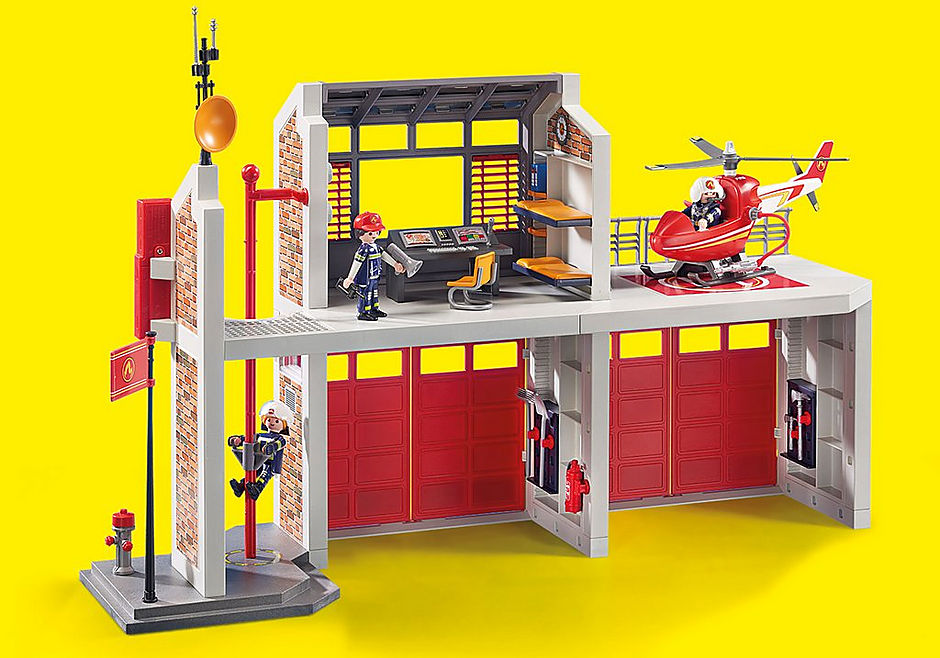 A wonderful toy to teach kids about fire safety
PLAYMOBIL has an awesome
Fire Station
that would be a great teaching tool to help kids learn about fire safety through play. Did you know that most kids learn better through play? This Fire Station comes with everything you need to help kids learn about what to do in an emergency through imaginative play. Kids can move the fireman people around the two-story firehouse and have the people slide down the fire pole to get to the included emergency helicopter. The fire station even has a functioning alarm sound and fold-down bunk beds. My boys love that PLAYMOBIL even though about small items like brooms, fire extinguishes, and chairs. The set includes two firemen that have hands to hold items like helmets, megaphone, flashlight, and fire extinguisher. So kids can pretend to put out fires and handle emergencies.
My boys have several other
playsets from PLAYMOBIL
and my grandbaby has
sandbox toys from PLAYMOBIL
. These have been fun toys for them. Since my boys are almost teenagers, we will be donating this awesome playset to a Christmas toy drive that my church does every year. So that way some special kid will receive a wonderful gift that will teach them about fire safety and fire prevention. It does not have to be October to learn about how to prevent fires or how to escape from a burning building. These are things that we should be teaching kids year-round. It should be more than stop-drop-and-roll and having fire drills at school.
I discovered a wonderful website that has plenty of information and resources to help you teach your kids about fire safety. This

Fire Prevention website

has safety tip information, coloring sheets, and even helps you plan and practice how to escape a fire in your home. I was amazed at all the information. My boys and I will be using these resources so we can be prepared for an emergency like a fire in the home. I hope that my boys never have to put this information into practice but knowing that they are prepared, helps me feel confident in leaving them home by themselves.
What are you doing this month to teach kids about fire safety?