I don't do Groupon deals very often as the places I have gone to in the past for food have not been the best. When I see a deal for a place that I know is awesome, I will buy it and share the deal with my friends. There are two great deals on Groupon that I personally recommend as they have awesome food.
The first is The Sassy Apron and the deal is for their wonderful boxed lunches. Their boxed lunches such as deli-style sandwiches with roast beef, chicken salad, or pulled pork are freshly prepared to feed two or more diners. The deal is $15.00 for $30.00. That is lunch for $7.50, what a deal for good homemade food. Click on the link to get the deal but hurry as it wont last long.
http://www.groupon.com/deals/the-sassy-apron-2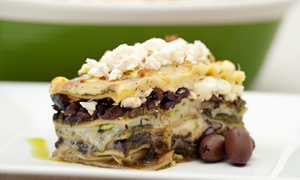 The other Groupon deal is for a wonderful place called My Delish Dinners. They have prepared meals to save time, effort, and wasted food, and are a healthier alternative to fast food. Here is their info:
At My Delish Dinners, certified cooks prepare hearty, healthy meals, which then find their way to homes, ready to bake and eat. The menu of main dishes includes chicken cordon bleu, pork tenderloin, and mushroom ravioli. Patrons can make a full meal by adding a side of mashed sweet potatoes with goat cheese and pistachios, or create their own sweet ending with a slice of raspberry cheesecake. And because customers don't need to shop for ingredients, time is saved more effectively than setting your watch back every five minutes.
Their deal is $13 for $25 worth of prepared meals for two or more
$25 for $50 worth of prepared meals for four or more. Click on the link to purchase.
http://www.groupon.com/deals/my-delish-dinners