Avoid the school lost and found pile with washable name labels from Name Bubbles
Sponsored post with Name Bubbles #NameBubblesB2School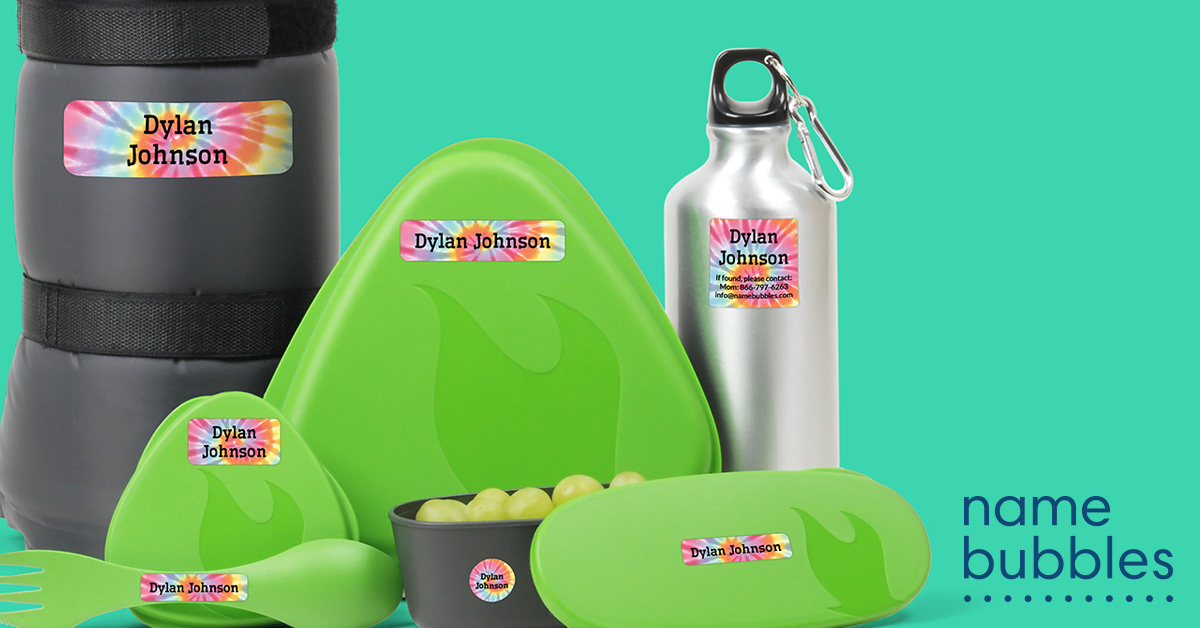 School may have just ended for most families but before you know it, the kids will be heading back to school. For so many families, back to school will be a celebration after a year or more of virtual school. Parents everywhere will soon be heading to the store to buy back-to-school supplies. As a parent, there is always excitement when we head to the store to buy school supplies. That means kids are heading back to school after a long summer of complaining that they are bored.
After being the homeschool teacher for way too long, parents will be celebrating as they buy backpacks, lunch bags, school clothes, etc. Along with the pads of paper and pencils, make sure to add washable name labels from Name Bubbles to your school supply list. That way you can avoid the lost and found pile forever. These labels are an essential accessory for all parents who need to tune up their organizational skills.
Washable Labels For All Ages
It does not matter if your child is attending their first year of school or heading to high school, school items tend to get left behind or lost at school or school events. From forgetting their water bottle on the school playground to leaving their lunch box in the cafeteria, kids tend to lose things. Kids lose a winter glove or a winter coat and then you as a parent, know the routine. You frantically head to the school lost and found, hoping that you can find your child's lost item. If your children are like mine, they don't tell you about the lost item until several days later. By that time, the schools lost and found pile has grown into a massive pile of stinky clothes, that no one wants to look through.
So, avoid the lost and found pile this year and purchase the best school label pack that is full of dishwasher safe & laundry safe kids labels designed to cover all of the basics and the non-basics such as clothing, backpacks, lunch boxes, and more. While younger kids may lose things like mittens and lunch boxes, older kids tend to lose sporting equipment and cell phones. Even my high school kids have lost school items. So don't take any chances with lost items and label everything with Name Bubble's back-to-school washable labels.
Name Bubble Labels Are Perfect For
+ Lunchboxes
+ Shoes
+ Gym clothes
+ Face Masks
+ Winter jackets, mittens, and gloves
+ Water bottles and food containers
+ Musical instruments
+ Notebooks, folders, etc
+ Backpacks
+ Children's clothing
+ Cell Phones
+ Computers
Easy to use Press and Stick labels with style
Name Bubbles has school labels that kids will love. The Name Labels come in several shapes and sizes for kids to then add their personal style. The washable labels from Name Bubbles can be customized to match your kid's personality. From color selection to decals that have fun pictures, these labels will make any child smile when they use their school items. You select to size and shape of the label then have fun selecting colors, pictures, and more. Name Bubbles allows you to customize the back-to-school labels.
The labels are simple to apply. Just peel, press, and stick to the item of your choice. These durable labels stick to almost any surface from school supplies to clothing. The best part is the labels are dishwasher safe, microwave safe, and freezer safe, so you don't have to worry about the label falling off. These packs of labels will help make sure you never make a trip to the lost and found again for that water bottle that always gets left on the playground during recess!
Name Bubbles Back To School Labels Save You Money
Parents can easily spend hundreds of dollars on back-to-school supplies. Those fancy athletic shoes can be over $100. So, save money and repeat trips back to the store to buy new items and purchase a Name Bubbles School Label Pack for each child who is heading back to school, even for the kid in high school. Name Bubbles has labels for every age and item. From big labels for backpacks to smaller labels for inside clothing. Each School Label pack is made with enough labels to last you through at least a full year of school. Whatever school year your child is setting off to ace, we have your family (and your wallet) covered.
The younger kids will love all the cute colorful name labels while the older high school kids will appreciate small labels to stick inside their items in a spot that their friends will not see. Make sure to stick the name labels on items like sporting goods, cell phones, and computers. So that way when your child leaves behind their items, the school can get the item back to your child.
Want to add more than a name to the label?
While the Name Bubbles school label packs are for adding your child's name to the label, some of the bigger labels in the school value pack have plenty of space to add information like phone numbers and email. So that way when your child loses their school item, the person who finds it can get in contact with you.
Does your child have food allergies?
Name Bubbles labels are meant to be personalized. So get creative with the name labels and use them for many other purposes. A great use for the name label is to use them to protect your child with food allergies. While Name Bubbles has labels for medical purposes, you can use the many different labels to let others be aware of your child's food allergy. Name Bubbles is the place for making creative labels for almost any purpose.
Name Bubbles has everyday labels for so many purposes. I love the labels that you can write on and then create your own labels are pretty cool. You can even buy waterproof stickers of cute animals so kids can have fun decorating their lunch boxes and water bottles. Name Bubbles is the place to buy labels for all your back-to-school items. So, avoid the lost and found box this school year and purchase a value pack of Name Bubbles School labels.
Purchase Name Bubble Labels School Label Packs