This post is sponsored by Sivan Social. All comments and opinions are my own.
Last year I renewed my Sam's Club membership and I am so glad that I did so. Being a Sam's Club member has some advantages beyond saving money on my groceries. Sam's Club is a place that I always find the best deals on so many items like clothes, electronics, and even toys. This year I will be doing my holiday shopping at Sam's Club as Sam's Club is a great resource for all my holiday shopping needs. I am especially thankful that I can shop online at Sam's Club and that they offer curbside pickup.
Sam's Club has everything that I need to celebrate the holidays like Thanksgiving and Christmas. This one-stop store not only carries the best selection of gifts but Sam's Club also has what I need for my holiday decorating. I know that I can even pick up items to wrap all my gifts as well as everything that I need to prepare my holiday feast. You need to check out Sam's Club holiday page as it contains important information like club holiday hours, delivery cutoff days, and upcoming sales. This page also has an awesome selection of categories so you can easily find what you need for your holiday shopping needs.
Sam's Club members have access to $4700 in Instant Savings
Being a Sam's Club member has big advantages this time of year as their Instant Savings Book has $4700 in instant savings on everything from seasonal decor, tech to home, and health & beauty items. The amount of items that have instant savings is incredible and I am sure that you will find many items that you need to buy.
OFFER DETAILS
+ Dates: 10/28/20 - 11/29/20
+ Restrictions may apply.
I found instant savings on many of my favorite grocery items like my favorite coffee and the big box of Ritz crackers that my boys like. I also grabbed coupons for household items like trash bags and shampoo.
I am really loving the instant savings book as I am finding so many great coupons on items that I know I will need for Christmas. I was amazed at the savings on Energizer MAX Alkaline AA Batteries. Now is the time to grab batteries for all those holiday toys. When I see batteries on sale, I make sure to stock up as my boys always seem to need them for their RC cars and other electronics. While I was looking at the coupon deals at Sam's Club, I made sure to browse the tech instant savings to see what kind of deals I could find on earbuds as my boys have been asking for a pair. I discovered that I could save $10 off the LG TONE Free Bluetooth® Wireless Stereo Earbuds and with the instant savings this would make a wonderful Christmas gift for both of my younger sons.
Free items for new Sam's Club Members
If you are not a member of Sam's Club, now is a great time to join. Signing up for a membership to Sam's Club is easy and right now they have a great promotion. When you join for $45, you will get a free Rotisserie Chicken, a Take & Bake Pizza, and 8 cupcakes. These items are valued at $20.95!
Join for $45 & Receive Instant Savings at Sam's Club
OFFER DETAILS
+ Free Items Include: free rotisserie chicken, take & bake pizza, and 8 count cupcakes
+ Dates: 10/15/20 - 1/31/21
+ Restrictions may apply.
+ Offer link ~ Click HERE to become a Sam's Club member.
Sams's Club is making holiday shopping safe
Sam's Club wants to make shopping safe for its members and for their associates so they have taken many measures in response to safe Covid practices. That includes asking any associates who feel unwell to stay home. Sam's Cub has set new policies to support any associate who may be affected by the virus, including paid leave for associates who needs to self-quarantine. Other steps they are taking include taking the temperatures of associates as they report to work and requiring that associates wear face coverings while at work.
For the members of Sam's Club, Sam's club has taken extra steps to support social distancing in clubs by providing visual markers to support the 6-foot guidance. They are also are sanitizing their carts for members. You can even skip the checkout line with their exclusive Scan & Go™ feature in the Sam's Club app. Simply scan your items with your phone, pay in the app, and skip the checkout line for contact-free shopping.
If you prefer to pick up your items at Sam's Club, then you can use the curbside pickup. Simply order and pay online or in the app. When your order's ready, park in a Pickup spot, and an associate will load your car for you. Same-day Pickup may be available if the order is placed before 3pm and is limited to 10 items or fewer. If your club doesn't have a convenient time slot available, please check back, as new time slots open every morning. Make sure to check the SAM'S CLUB COVID RESPONSE PAGE for more details.
#SAMSCLUBHOLIDAYPREP GIVEAWAY
Savings.com is giving away $1000 in e-gift cards from Sam's Club! Just in time for the holidays! Ten people will win a $100 e-gift card from Sam's Club. Entering the giveaway is simple. Just click on the below link and submit your email on the giveaway form. Just imagine all the fun you will have spending the $100 if you win. See below for details on how to enter the #SAMSCLUBHOLIDAYPREP GIVEAWAY.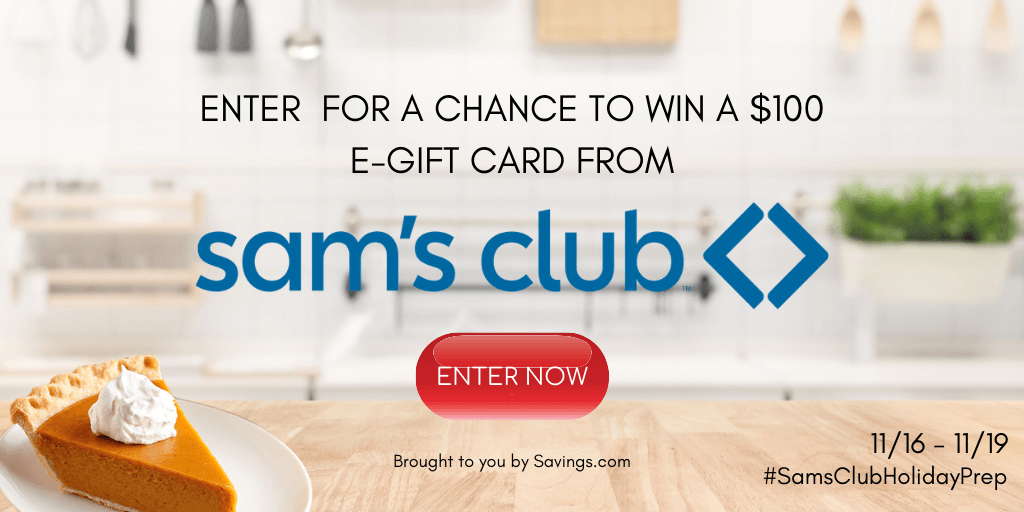 Giveaway details:
+ Giveaway starts on Monday, November 16th at 12:00 AM PT
+ Giveaway ends on Thursday, November 19th at 11:59 PM PT
+ Ten (10) winners will receive a $100 e-gift card from Sam's Club.
+ Users can enter the giveaway by heading to Sam's Club page on Savings.com and submitting their email address on the form at the top of the page.
+ The winners will be chosen through a lottery drawing and notified on Friday, November 20th (11/20) via the email address they used to enter.
+ See complete Official Rules for entry instructions, full prize descriptions, restrictions, and other important details